GeiserMiser: Stop Sprinkler Geisers Buy Now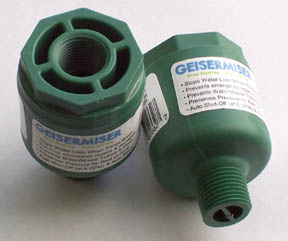 Have you ever been driving down the street and seen a 20 foot geyser from a broken sprinkler head, and wondered how much water and money was being wasted, not to mention the potential water damage to structures from flooding?
The GeiserMiser is the simple and low-cost solution to broken sprinkler heads or disconnected flexible pipe.
The GeiserMiser instantly detects broken sprinkler heads, and stops water flow. The simple device is typically installed at the end of each sprinkler supply line before the flexible pipe and sprinkler head.
It's patented operation is very simple. There's a ball inside tied to a spring. When water flow surges as in the case of a ruptured sprinkler head, the ball is pushed to the end and it blocks flow like a valve. The spring is critical because it supplies enough tension to keep the valve open during normal flow conditions. The other benefit is that it can be oriented at any angle.
The amount of water wasted from a single broken sprinkler is mind boggling: A 1/2" pipe at 60psi will lose 13 gallons per minute which is 7800 gallons of water per hour! This product is great because it pays for itself. Think of it as flood insurance.
GeiserMiser Applications
Automatically stop geysers from broken sprinkler heads.
Protect your home from flooding damage.
Save precious water, and money.
Prevent municipal tickets and fines for water waste.
Preserve water pressure for the rest of a zone
GeiserMiser Features
Automatically resets when broken sprinklers are replaced.
Extreme low cost.
Rugged construction
Can be mounted at any angle.
Easy to use in existing sprinkler systems.
No maintenence.
Patented.
Other Vegetronix Products of Interest
GeiserMiser Specifications
GeiserMiser Specifications
Auto shutoff flow
6 GPM (Gallons/Minute)
Dimensions
2 1/4" long x 2" diameter
Threaded End Sizes
1/2" NPF installed standard thread ends
Life Expectancy
With ethyline propalene and 302 Stainless steel internal parts, life expectancy is virtually indefinite.
How to Get Started with the GeiserMiser
The best way to get started is to purchase a few sample GeiserMiser and try them out in your sprinkler system.