VG-WIRE-SH3: Probe Extension Cable Wire Buy Now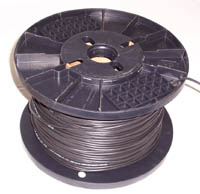 Our VH400 probes come with standard cable lengths of 2, 5, and 10 meters. If you need longer lengths you can splice this extension cable to the probes. Lengths are sold in units of meters.
We can also create non-standard cable lengths for your sensors that you order. Just order order the extra cable that you need below, and then send us an email us after you order to let us know how you want the extra cable allocated to your sensors. Custom orders like these, can delay shipment by a couple of days since we have to build them.
If you want to splice together cables we recommend our Extension Cable Splice Kit, which allows you splice each of the 3 conductors, in a water tight enclosure.
To order, just select the "Add to Cart" button, and then select the number of meters you want.
Applications
Extend the standard probe cable length.
Crop Steering.
Other Vegetronix Products of Interest
Pricing and Ordering Info
We ship to nearly EVERY COUNTRY on the planet, directly to you from our factory.
99% of orders ship same day.
BUY NOW FROM OUR WEBSITE STORE
Part Number
Description
Price
Purchase
VG-WIRE-SH3
Probe extension cable wire for splicing to VH400 probes. Order the total number of meters that you need.
Buy Now
VG-SPLICE-1
Extension Cable Splice Kit - 1 pack
Buy Now
VG-SPLICE-3
Extension Cable Splice Kit - 3 pack
Buy Now
For volume pricing contact us.
Specifications
VG-WIRE-SH3
Conductors
3
Shielded
Yes
Isolation
300V
Buy Now