The VG-RELAY-DC board is perfect for controlling traditional sprinkler valves, pumps, or interfacing to other control systems. It interfaces directly to Vegetronix soil moisture sensors . Because it uses a 5A mechanical relay, it can directly control higher power AC or DC devices. It has 2 LEDs to indicate that the board has power, and the on/off state of the relay.

The VG-RELAY-DC board interfaces to a single VH400 soil sensor, and can activate a high power AC or DC load such as a valve or alarm, or other control device, when a moisture level is reached. The threshold is easily set with the onboard variable resistor, and a small screwdriver. The relay board can be configured with a jumper to turn the relay on when the sensor detects wetness or on when the sensor detects dryness.

The VH-RELAY-DC also serves as an evaluation board. If you are thinking about testing our VH400 soil moisture sensors you should consider purchasing this board as well.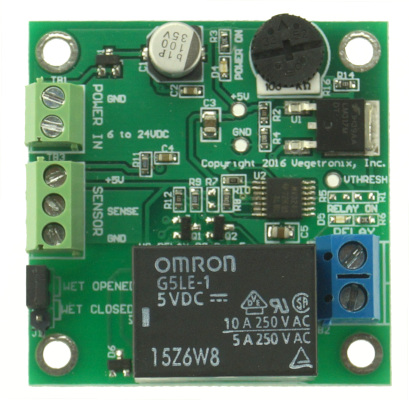 VG-RELAY-DC
Moisture Sensor Relay